Funders-related Decisions
Setting Smart Goals to Drive Progress
As a funder, what considerations should I make when setting goals for grantees?
During the Next Generation Courseware Challenge (NGCC) program, seven grantees were funded to design, develop, and deliver courseware with two goals: building better quality products and achieving massive scale in terms of reach.
Funding and encouragement from the Bill & Melinda Gates Foundation allowed the grantees to take risks and produce better versions of their courseware products than otherwise would have been possible. The grants also allowed companies the opportunity to work with small, under-resourced schools with low-income populations on accelerated timelines, none of which would have been feasible without outside support.
In hindsight, the foundation observed several characteristics of goal-setting other funders should consider adopting to make sure cohorts of grantees are set up for success:
Align goals and metrics to the bigger 'why' to reinforce the vision. The foundation learned that it was important to help the grantees understand how the goals and metrics for the program connected to the larger strategy vision– helping more low-income students, students of color and first-generation college students attain a meaningful postsecondary credential. Communicating the vision of how goals and metrics connected to the larger vision was important to make the metrics concrete for grantees and align stakeholders at the outset.
Regularly communicating and reinforcing the larger vision ensured grantees were focused on the right priorities. Initially, the NGCC program didn't have key performance indicators (KPIs) or a performance measurement framework in place. Absent a standardized approach, grantees collected and assessed the data they believed most relevant to their work. Over time, the program identified KPIs, and established a sophisticated metrics framework to help grantees better understand how their efforts affected various groups of students and had the potential to significantly improve a student's success in these critical high-enrollment general education courses.
Ensure grant program goals are informed by market realities. Funders and grant program designers should ensure that they have a deep understanding of the whole ecosystem being addressed from the start. A comprehensive landscape analysis can provide much-needed information on key players and market trends as well as product and target user segmentation. Soon after the start of the initiative the foundation realized the value that this perspective would bring to the work and enlisted Tyton Partners to conduct market research that would inform further decision-making.
The grant and market trends below reveal that several dominant players have shaped norms and expectations in the digital learning market. In addition to these key players, major trends in the industry, including the growing textbook rental market and the rise of open educational resources (OER), can also have significant influence on the scope and size of grant program goals. Information on these and other external factors are important to consider when identifying goals for a potential grant program.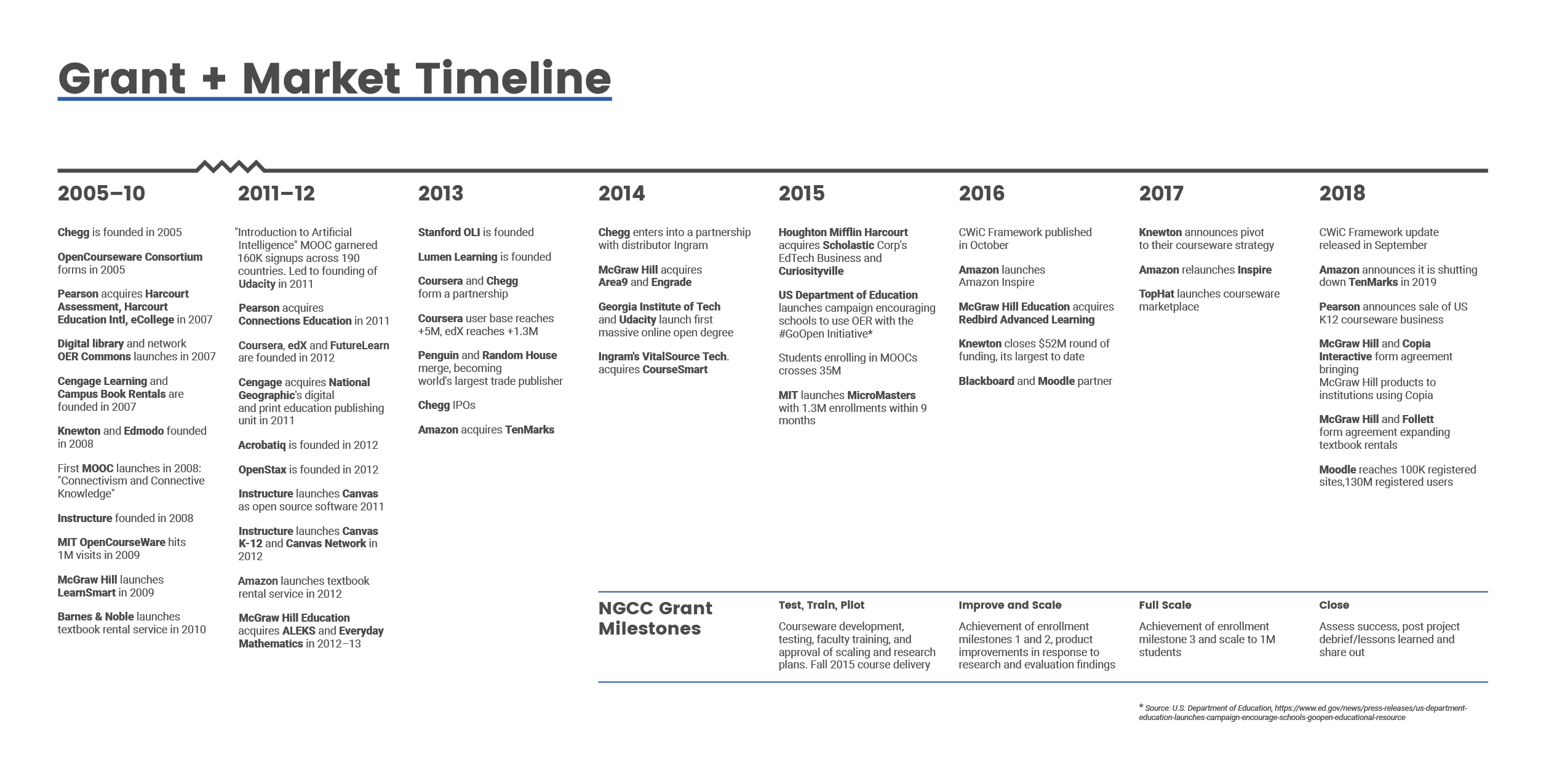 Establish clear metrics for tracking progress. Because the courseware segment of the digital learning market was rather nascent at the start of the NGCC program, there were no established metrics or milestones to track improvement of a courseware product. The foundation responded by commissioning with the field the creation of the Courseware in Context Framework (CWiC) to help postsecondary decision-makers make better-informed choices about courseware adoption and implementation. This framework also served as a guide that NGCC program grantees could use to assess the quality of the products they were developing.
Scaffold and differentiate goals based on each grantee organization's strategy and product development stage. Just as learning objectives are scaffolded for students in order to facilitate the student's incremental mastery of a concept, goals can be scaffolded for grantees to support their efforts. Improving the quality and availability of courseware at a lower cost meant that grantees needed to work on product development, marketing, and sales at the same time, all of which are intensive processes in their own right. Audacious goals that are urgent in nature can often compete with one another and slow progress that matters. One tactic could be to have grantees achieve product-market fit efficiently first before setting out to scale access to these products. In addition, consider whether the goals for grantees should be differentiated based on their stage in the product development cycle (i.e. early-stage companies vs. products already gaining traction in the market).
Create opportunities for formative assessments along the way. Smaller formative assessments over the course of the grant term can help you as a funder to get a better sense of how your grantees are trending toward their goals. Even before grantees can make any significant progress toward the goals, consider assessing structures that are put in place to achieve the goals. For example, if the grantees are early-stage companies with little to no sales staff, what structures have they set in place to achieve scale in a non-traditional way? Or, if the grantees are serving institutions new to digital learning, how can you evaluate their capacity to support and sustain the courseware solution as an intervention at an institution that is relatively new to blended or online learning? These assessments can also serve grantees by establishing clear milestones and helping them reflect on the information to develop a strategy to meet their goals.
Related article
Funders
Creating Supportive Environments
How do I create a system of support to ensure grantees are able to be successful?
Read this